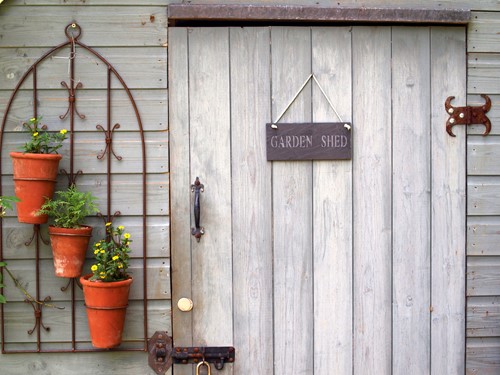 Do you have an old garden shed in your yard that's outlived its original purpose? Perhaps your gardening tools and supplies have moved on to a new shed or been relocated to a convenient spot in the corner of your garage. If so, you may be considering tearing down your old shed. After all, these structures can harbor rodents and become safety hazards as well as detract from the overall aesthetic of your outdoor living space — even the most well-kept yard and garden space won't provide good curb appeal if a dilapidated garden shed is a part of the picture. Here's how you can take yours from sloppy to sensational in just one weekend.
First Things First
The first thing you need to do is walk around the outside of the structure to check for peeling paint, cracked windows and any other cosmetic issues that need attention. After that, enter the inside to ensure that it's stable and level so that you can fix any structural issues such as loose floorboards. Remove any residual gardening tools and supplies and sweep the place clean. You may have to get out the shop vac if debris has been allowed to accumulate for a long period of time.
Repair and Restore
The next step is to repair anything that needs it. Most old garden sheds are made from pretty sturdy stuff that holds up well, but the roof and the steps are likely to need some attention if the structure has been neglected for several years, so you might have to replace a few shingles and shore up the steps. Make it look new again with paint or siding, and add decorative elements like window boxes brimming with flowering plants. If you're going to use it as a backyard getaway or playhouse, provide carpeting, wall art and furnishings. Let your imagination lead the way, but be sure to keep the end result in line with the design of the rest of your home.
Add Landscaping
Add a finishing touch to your garden shed renovation project by installing foundation landscaping. Simply dig a trench around the structure, plant your plants, fill it in, and cover with an attractive mulching material such as colored pebbles or oyster shells. For old-school cottage garden charm, plant climbing roses or clematis. If your yard is more of a formal affair, choose something classic like boxwood. To add balance and extend the space, consider adding a small patio with potted plants and a comfortable seating area.
Once you finish giving your garden shed its makeover, don't forget to pour yourself a refreshing beverage to enjoy while you admire the results of your hard work.